January 7, 2018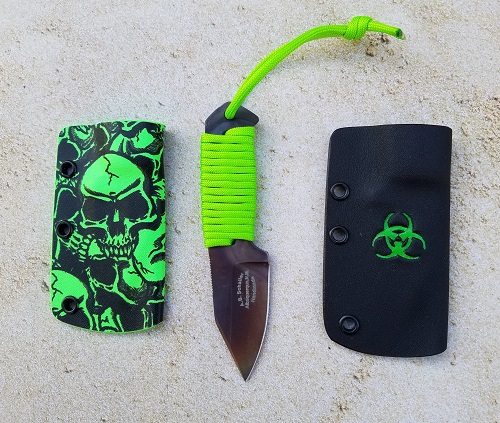 Afraid of Zombies? Well, the young lady who ordered this one isn't. Not anymore . . . .
A Goblin model specially modified for dealing with the undead, with toxic green paracord wrap and the heat colors from heat treatment left on. Two sheaths - a black biohazard sheath for everyday wear, and a toxic skull sheath for Sunday best.

Making this one got me to thinking, which is never a good thing because I come up with stuff like this (fans of The Walking Dead TV show will recognize the characters.)

The crossbow is for Daryl -- The Python works for Rick.
A shotgun filled with double-ought would be our friend Shane's pick.
"Good!" said Michonne and Carol,
"But in an undead brawl,
Iron - Cold Iron - is master of them all."
(Apologies to Rudyard Kipling)

November 12, 2017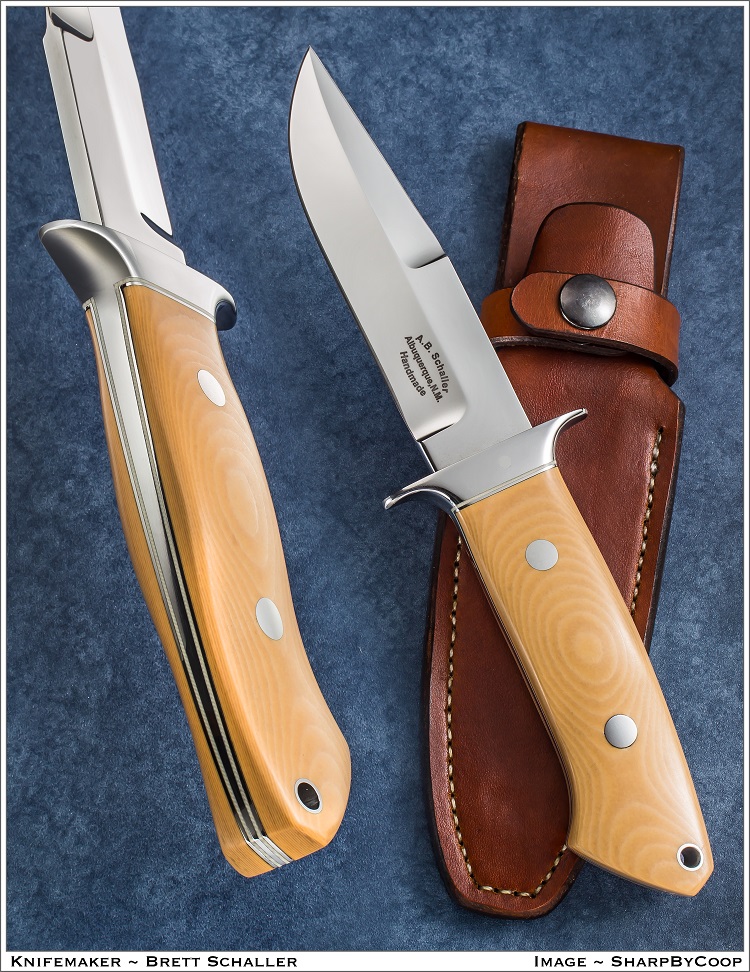 Finally found time to finish this one up . . . a classic Loveless/Archer chute knife. Mirror polished, with a stainless guard, antique ivory Micarta scales, and stainless/G-10 liners.




October 27, 2017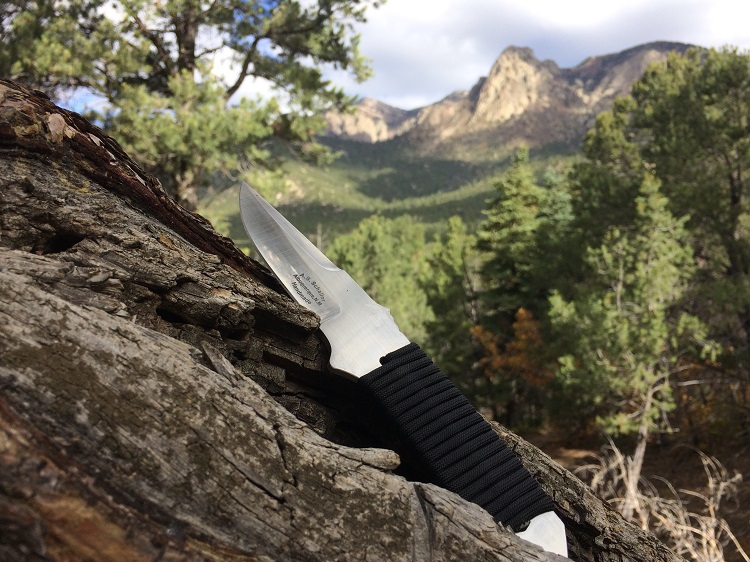 The gentleman who purchased the cord-wrapped Shadow prototype I recently had available sent me this beautiful photo of the knife taken while he was hiking in the Cibola National Forest. A wild knife in its natural habitat!




September 20, 2017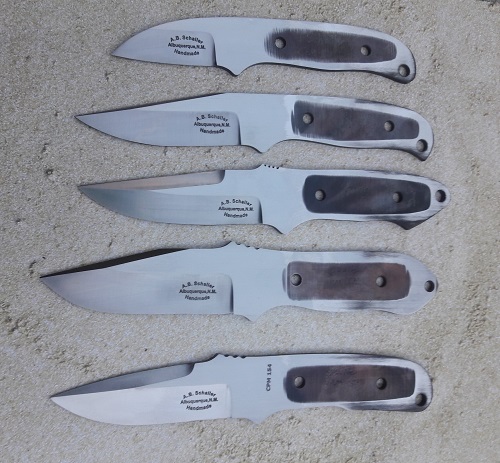 Back from heat treat and cleaned up; a Worker, a Sportsman, a Shadow, and a couple of new prototypes. . . .




July 4, 2017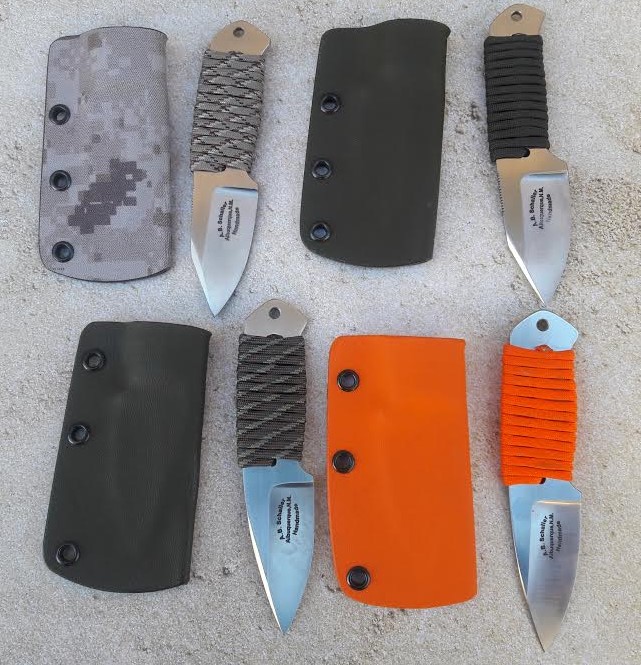 Available Now!

First time in a while . . . I have some models on the shelf and available for immediate delivery on a "first spoken for" basis. See the "Available Knives" page for details.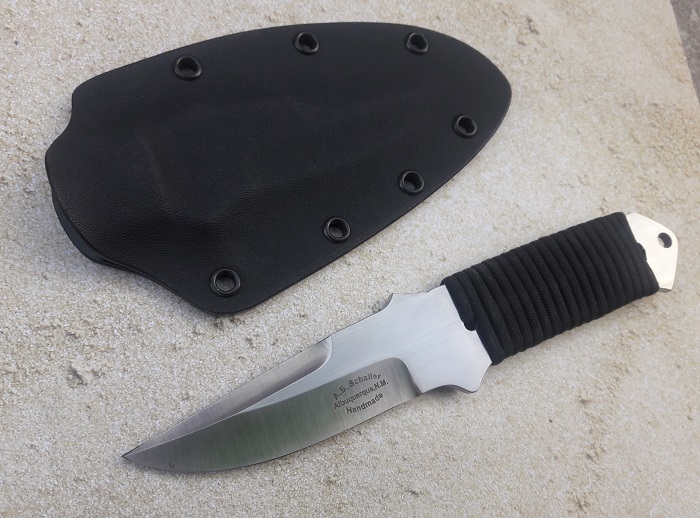 May 29, 2017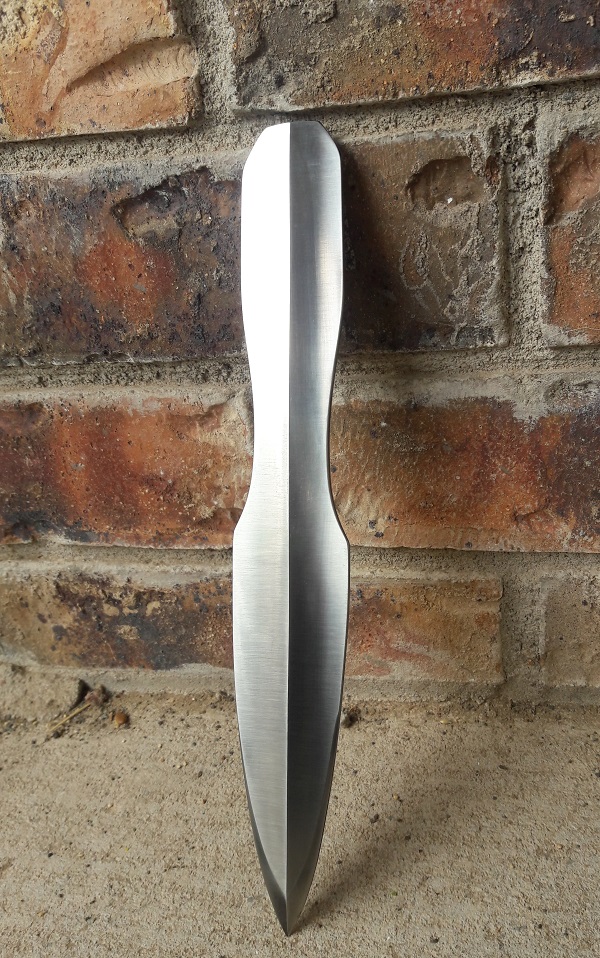 And now for something completely different . . .

Suppose you were a thief in an old style, fantasy Dungeons and Dragons style role-playing game. And suppose you acquired a broken sword blade. What would you do with it? Why, make a throwing knife of course!

This is made of 440C, ground symmetrically on both sides. It's not really a broken sword blade - just ground to look like one.

Yes, it throws well. ;)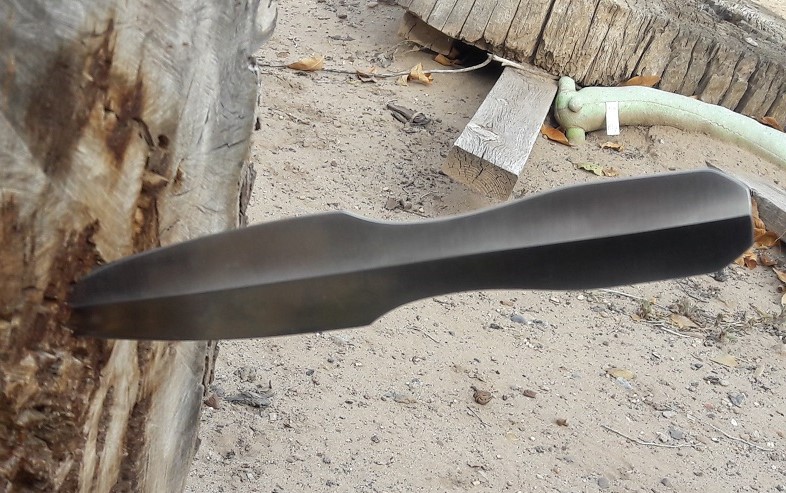 October 5, 2016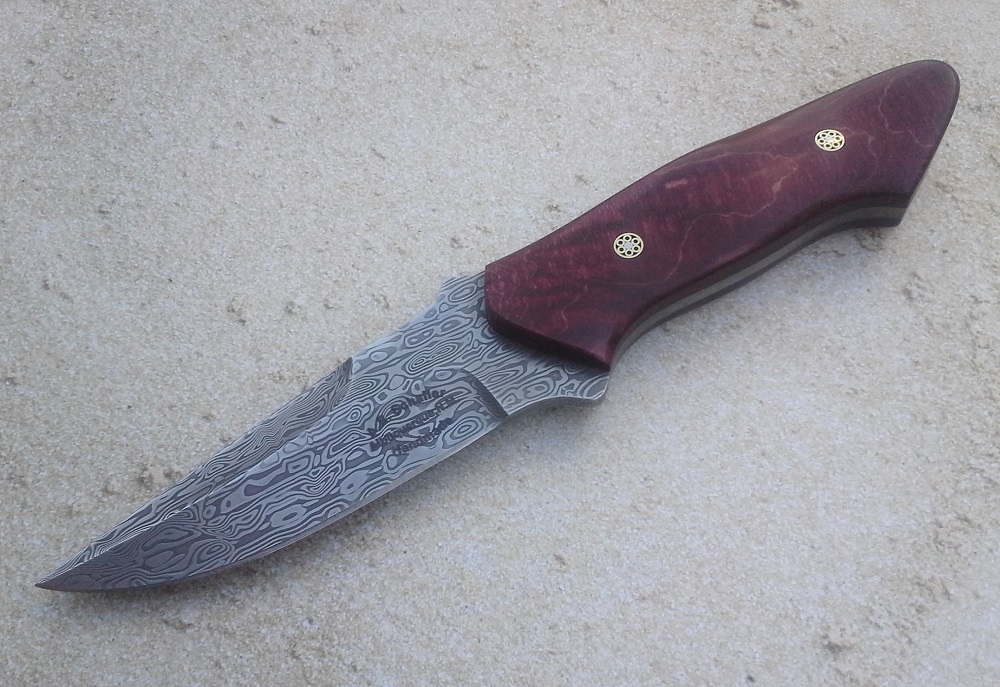 A Shadow in Damasteel and red-dyed maple. This is the first time I've worked with Damasteel. It's a bit more trouble than most other damascus, but the results are worth it.

This knife also features a new style of mosaic pin. I've always preferred a fairly simple pin style, but I thought I'd branch out a little. This one features a brass outer tube with six brass hollow pins and a stainless center pin. As always, these are handmade in my shop - not commercial items. I'm calling this "mosaic pin style 2." Yep, I really had to brainstorm to come up with that name . . . .




September 5, 2016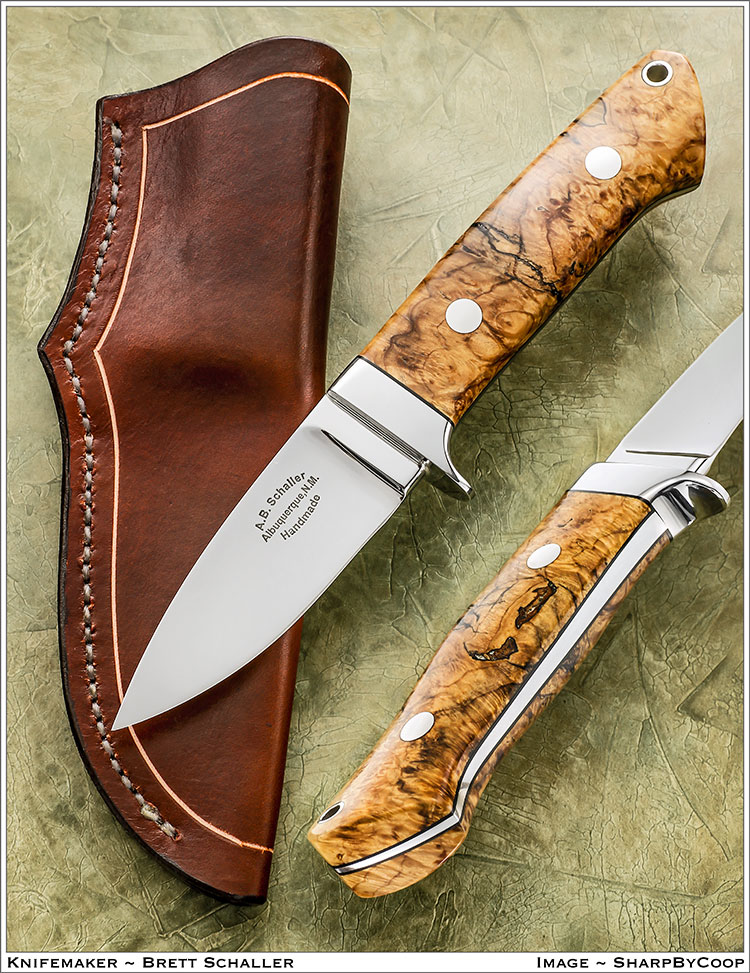 Here's another Loveless style dropped hunter - mirror polished with stainless guard and spalted box elder burl scales.




March 13, 2016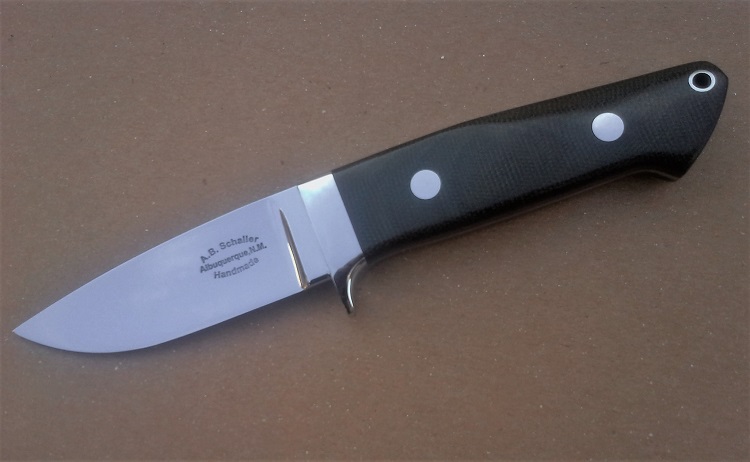 Well, it's been a while. . . my computer finally died, and its replacement won't let me load my photo software. . . so I had to figure out how to take photos on my phone. As such, I'm having a little trouble getting good photos. Can you tell I'm not a tech guy? I still have a VHS player with the clock blinking 12:00.

Anyway, here's one of the Loveless style dropped hunter blades from the last update all finished up. Green canvas Micarta with red liners, and mirror polished.




Sept. 7, 2015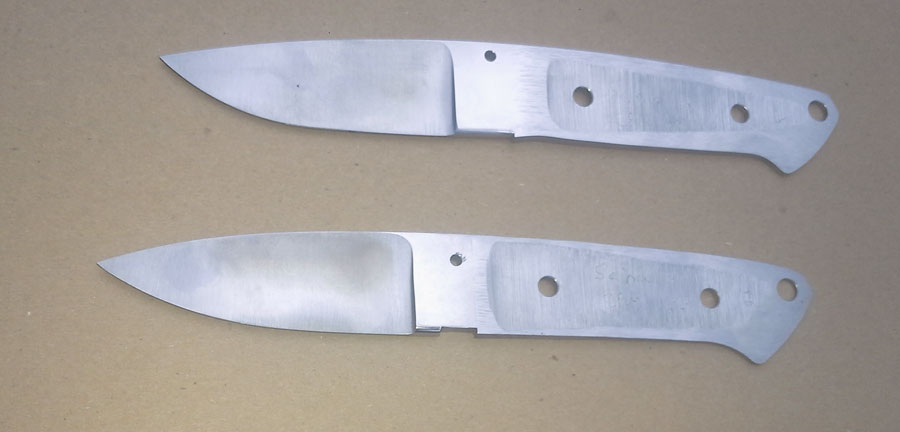 Here are a couple of Loveless-style drop point blades, ready for heat treatment.




August 13, 2015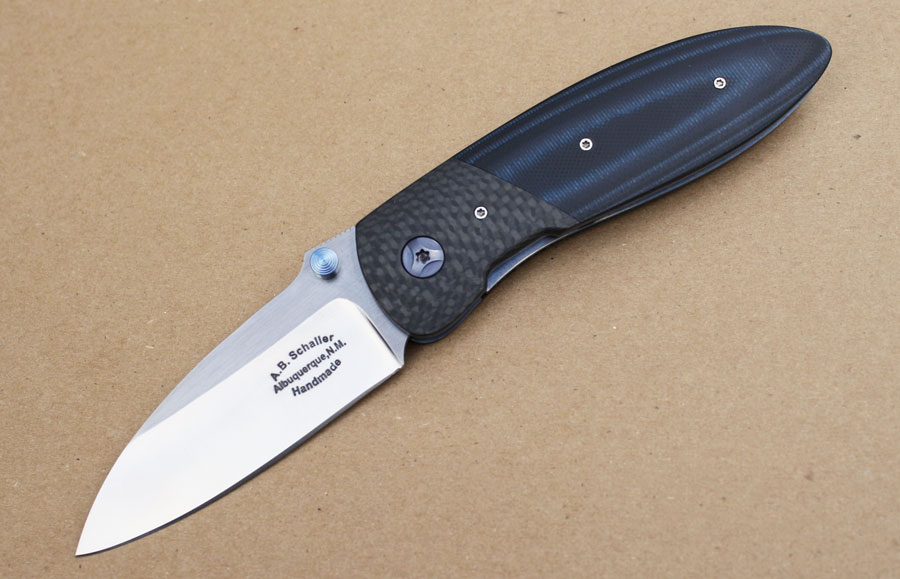 Here's a Nighthawk, locking-liner version with carbon fiber bolsters and blue/black G-10 scales.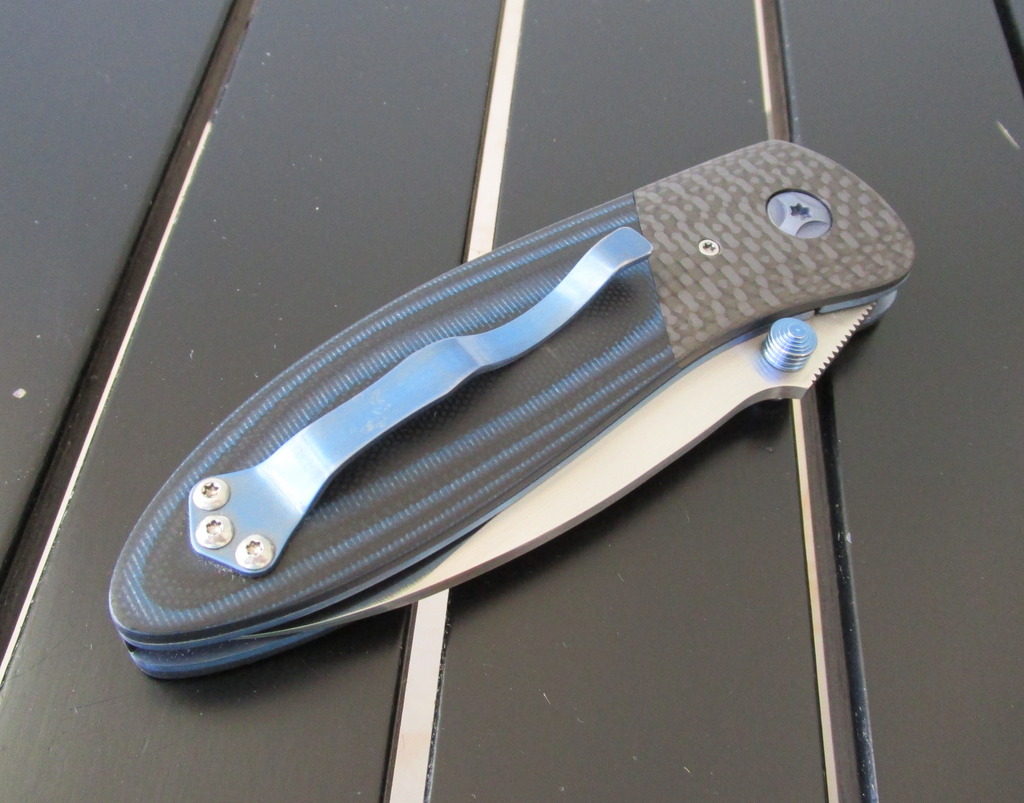 A couple of more pics courtesy of Mr. Jimmy Harbison: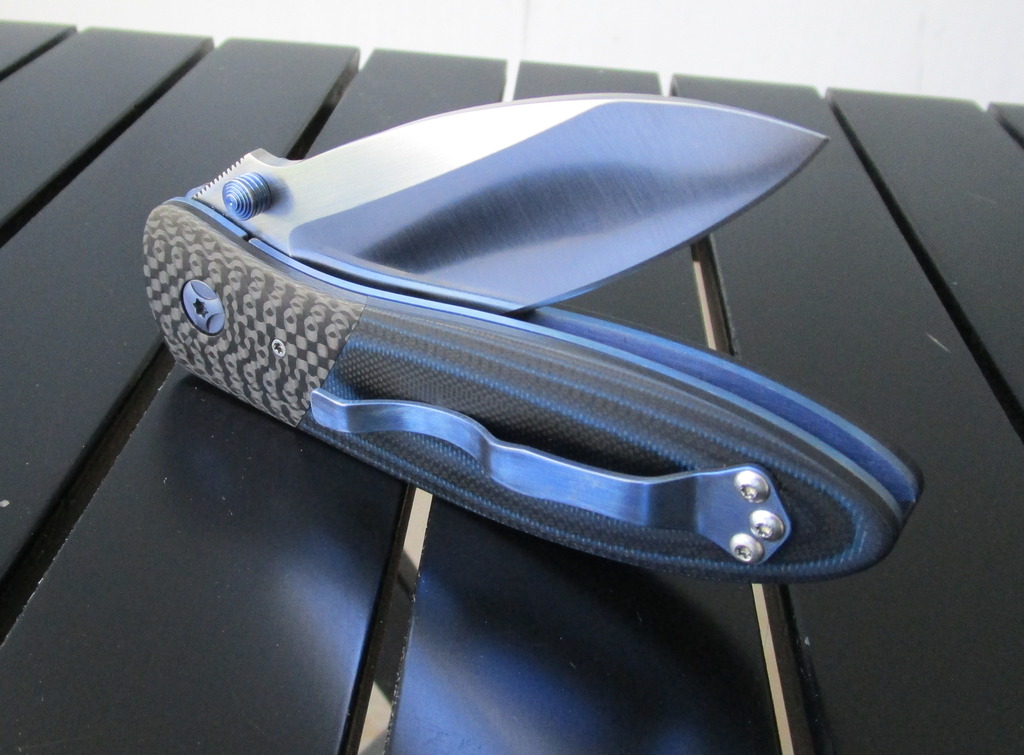 December 11, 2014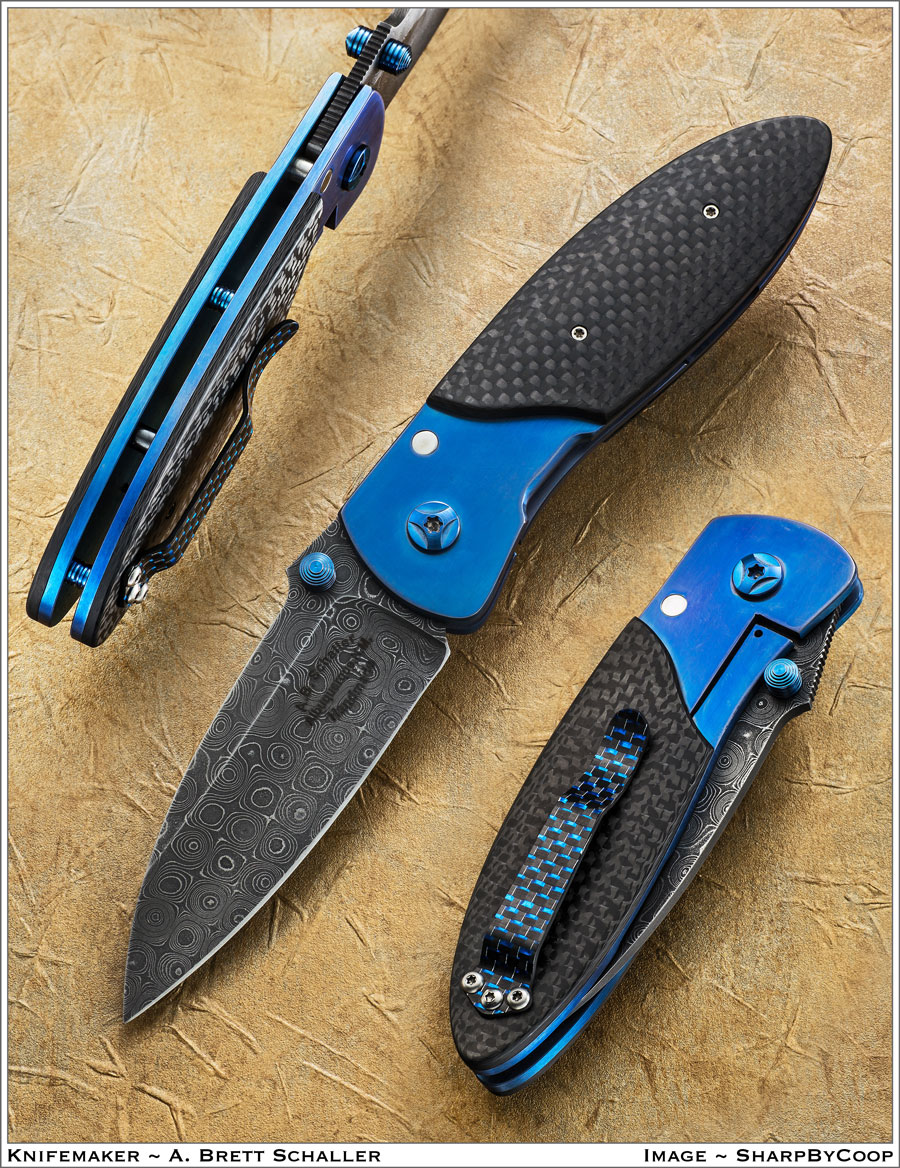 Just had Jim Cooper (SharpByCoop) take a very nice photo of this large model Nighthawk in framelock configuration. Blade is Mike Norris Damascus. Liners, pivot and thumbstuds are all anodized blue. Carbon fiber overlays.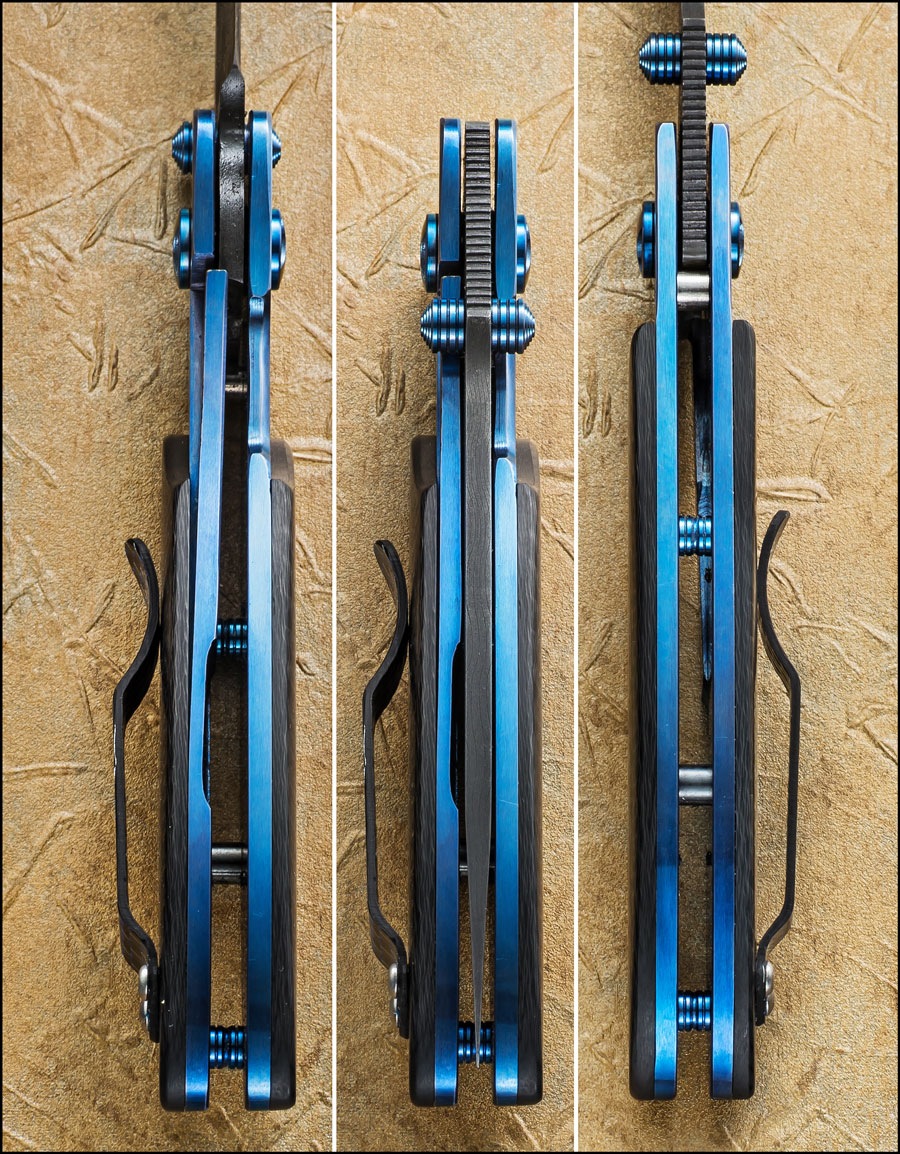 October 5, 2013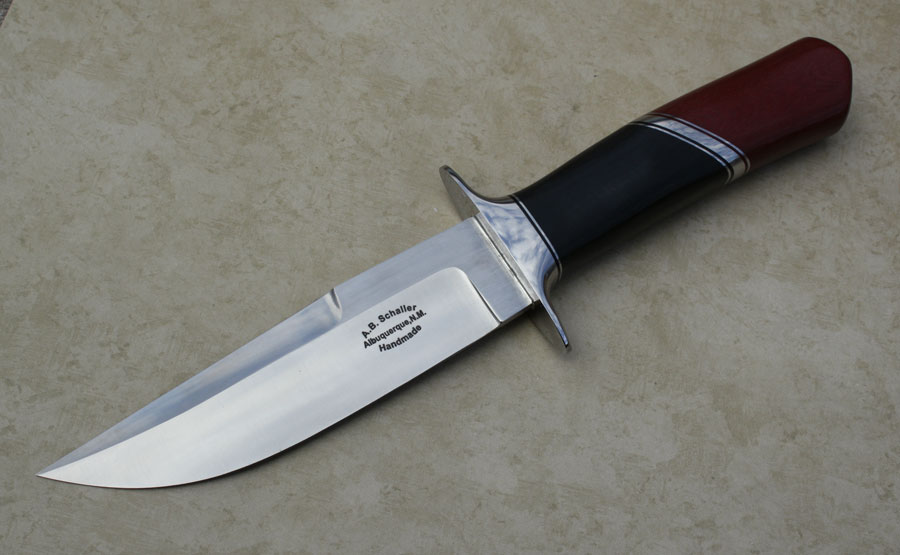 Here's one of my older models that I wanted to make again - the SCS Special. 5 1/4" CPM154 blade, 10" overall. Hidden tang construction with a silver-soldered 416 stainless steel guard. Handle is red / black Micarta with 416 stainless spacers. Hard to get a good photo because of the mirror polished guard and spacers.




---
| Return Home | What's New | Fixed Blades | Folders | Features and Options | Ordering and Contact Information | Available Knives | Wood Spirits by Uncle Jim | Frequently Asked Questions | Shop Tour | Other Stuff |